Over the years, many challengers have tried to become a legitimate alternative search engine to Google.
But as of August 2023, Google commanded almost 92% of the global search engine market.
Source: StatCounter Global Stats – Search Engine Market Share
History tells us that no one company dominates its sector forever.
In a 2012 letter to investors, then C.E.O. of Google, Larry Page, wrote, "When our products don't work, or we make mistakes, it's easy for users to go elsewhere because our competition is only a click away."
Page's concern was a non-issue for a decade.
However, in 2023, the concept of online search took a significant turn with the proliferation of AI chat answer engines.
This post will look at long-time and more recently formed Google challengers.
Search Engine Alternatives
Here are some of the Google challengers that have sprung up over the years. Can one or more of these competitors have a measurable effect on Google's search engine dominance?
Caveat: AI chat engines are prone to hallucinations, so don't believe everything you read in their responses.
Perplexity
Perplexity is an easy-to-use AI chat-based answer engine with the search prompt "Ask me anything…"
Answers include four or five sources with links to the source pages. The answer engine provides three related questions.
Bing
Microsoft launched Bing in 2009. Despite Microsoft's massive marketing budget, Bing had one-eighth the desktop market share of Google in 2022.
However, there have been positive reviews and tweets since Microsoft incorporated ChatGPT in Bing in early 2023.
Wow. New Bing is blowing my mind 🤯 pic.twitter.com/E8lJyxBWyp

— Brodie Clark (@brodieseo) February 13, 2023
The ChatGPT move forced Google's hand. The response was an arguably rushed announcement of Bard, which faced some criticism, even within Google.
In late March 2023, Google introduced an experimental version of its AI chat offering.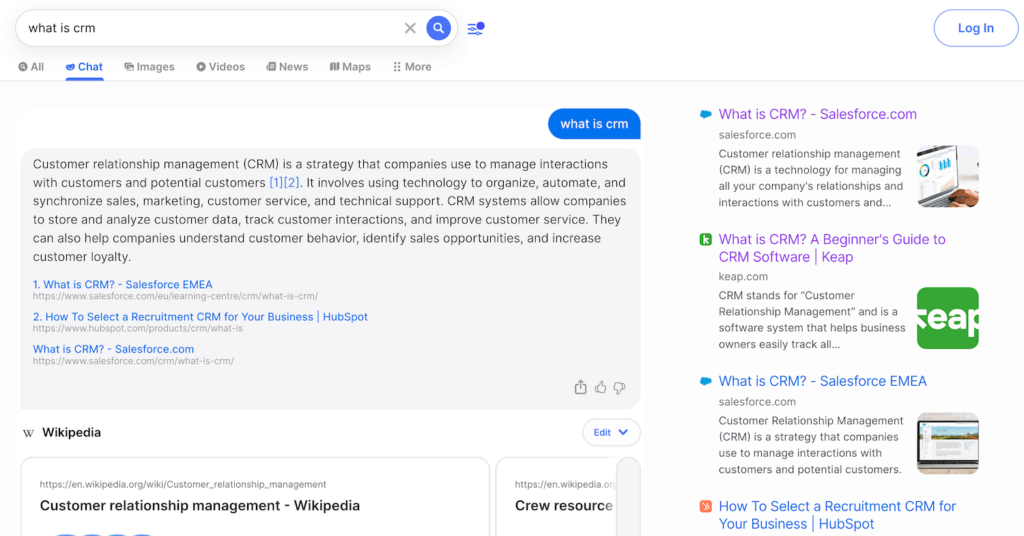 Perplexity lets users edit answers by adding sources for more perspectives or deleting irrelevant sources. Users can add context, remove wrong information, and curate trustworthy answers.
Yep
In June 2022, SEO platform provider Ahrefs announced a beta version of its search engine Yep.
Ahrefs CEO Dmytro Gerasymenko presented a business model stating that Yep will share 90% of its advertising profits with content creators.
The idea is that content creators won't have to plaster their sidebars with ads and their body text with affiliate links. Paywalls will no longer be needed. Writers won't need to survive on donations as Wikipedia does.
Instead of writing clickbait articles, creators can focus on publishing quality content.
Yep's AI Chat is called yep.TLDR. It uses a large language model to summarize the top search results with links to the source.
Neeva
UPDATE: Neeva shut down in June 2023
Neeva was a search engine company co-founded by Sridhar Ramaswamy, former SVP for advertising and commerce at Google. The company has introduced a subscription model to search.
Neeva's Chat AI was called neevaAI. neevaAI showed four citations. The selected citation had a sidebar panel.
Metaphor
Metaphor has a unique approach to helping people find information. Its search engine is based on generative AI.
Prompts take the place of search queries. The search results for a product category prompt we tried are vendor URLs rather than a traditional list of product review articles from high-ranking domains with titles like "Top 20 Best Marketing Automation Software Comparison for 2023."
To use Metaphor, you need to log in via Discord.
DuckDuckGo
The launch of DuckDuckGo was in 2008. Fourteen years later, the search engine has less than one percent of the global desktop market — at least according to Statcounter.
The company points out that the number of people who use DuckDuckGo can only be estimated.
Timpi
Another would-be challenger is Timpi, which is riding the wave of decentralization. The engine is built on a multi-chain. People worldwide can contribute to the engine in various capacities and earn rewards in the form of $TIMPI tokens.
Timpi is aiming for a public beta launch in July 2023.
Can any of these engines dethrone Google?
Google's longevity as a search engine has resulted in much utility beyond text results. For example, many rely on Google Maps for travel to personal and business destinations. A lot of users rely on Google's video and image results.
But things are changing rapidly in 2023. HubSpot co-founder Dharmesh Shah tweeted the following:
Generative A.I. months are like dog months.

More happens in a single month in the generative A.I. world than happens in the normal world in 7 months.

— dharmesh (@dharmesh) February 10, 2023
Google's dominance as a search engine faces more significant threats than ever.
It will be interesting to see how big a dent, if any, the new generation of search engine alternatives will make in Google's market share in 2023.