Your Marketing Content is an Investment
The valuable content assets your business already owns can work better for your business.
On the content creation side, many companies use contract writers or internal resources to develop blog content. However, publishing a few hundred words on a webpage without a plan rarely results in an appearance in search engine results.
Ahrefs studied over a billion pages and found that over 90% of pages get zero organic search traffic.
We constantly see company websites that get no organic search traffic other than branded searches for the company name and the names of products and services.
Branded searches will only take your website traffic so far. You need the right blend of strategy and tactics if you want more site visitors from search.
Steps to get you started with content that ranks
Listen
We learn about your target audience, your products & services, and your business goals.
Strategize
A content marketing strategy document is developed and presented to your marketing team.
Deliver
The recommendations in the strategy document are delivered. Results are measured.
Growing search traffic from near zero to thousands of monthly visitors can take time. The sooner you start, the better. Think of quality content as an investment in your company's future.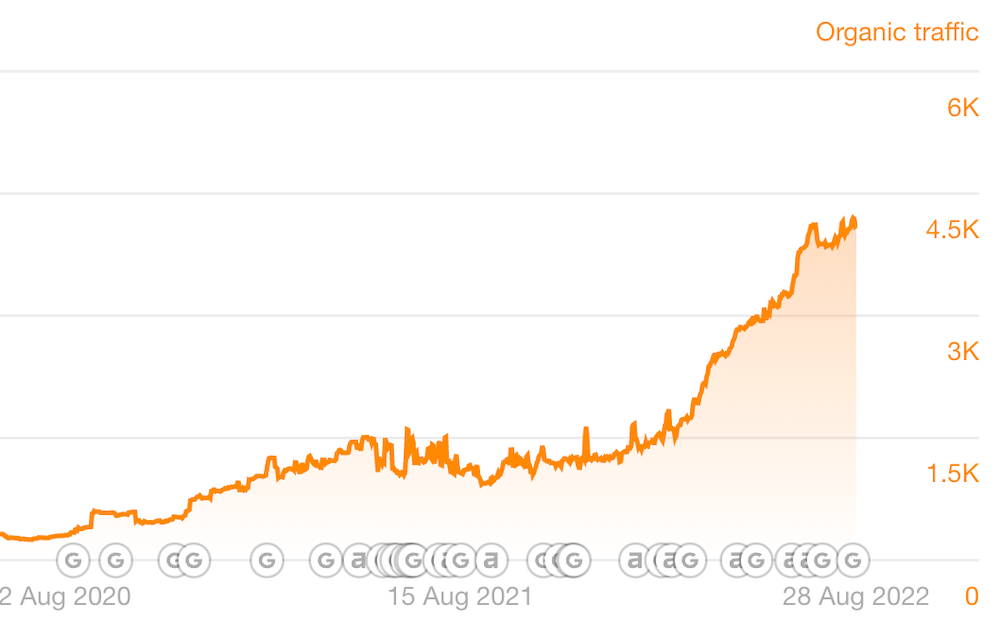 One way to get unstuck from a content marketing rut is to bring in an SEO-focused resource who can complement your team and "teach them to fish." There's nothing intuitive about search engine optimization — SEO is a learned skill set.
Since we started working with Steve at CRM Switch, our website traffic has increased tenfold. This has resulted in more prospects flowing into our CRM system, many of which we were able to convert into new, long term customers. If you need more people to find your products or services online, talk to CRM Switch.

David Little, VP of Sales & Marketing @ Fortis
What about "helpful content"?
Google wants helpful, people-first content, but not at the expense of following SEO best practices that will get you found online.
To rank, a piece of content should offer unique or expert perspectives.
Google believes websites should have an audience — not dozens or hundreds of audiences.
The more focused your website's content is on your target audience, the more favorably Google will view your website.
A favorable view of your website translates into better rankings in the search engine results for your pages and posts.
Content Marketing Frequently Asked Questions
What is content marketing?
Content marketing is a digital marketing approach designed to draw in visitors and potential prospects. The goal of content marketing is for people to find your brand, service, or product when they are searching for solutions, answers to questions, or any other valuable information.
What are some examples of content marketing?
✔️ Blog posts
✔️ Podcasts
✔️ Social media campaigns (LinkedIn, Facebook, Twitter, Instagram)
✔️ Downloadable PDFs (checklists, cheat sheets, ebooks)
✔️ Infographics
✔️ Search engine-optimized website pages
✔️ YouTube Videos
✔️ Webinars
Is content marketing still effective?
Content marketing still works, but success is more elusive than it used to be. Why? A lot more businesses are creating blog content. Also, the organic search results for many terms appear "below the fold," crowded out by ads, Local Packs, and the 'People also ask' section. This means content marketers must be more inventive and creative than ever.
Is SEO (search engine optimization) the same as content marketing?
SEO and content marketing are different, but they overlap. SEO is one of the most essential tactics within a content marketing strategy. Since "being found online" is central to content marketing, optimizing content for search must be top of mind whenever marketing content is created or updated.
What exactly does a content marketing consultant do?
A content marketing consultant is an advisor to your company and is someone who can handle an array of different tasks. The consultant is often a member of a larger marketing team whose members handle other tasks, such as paid advertising, email marketing, and events. Learn about specific content marketing tasks.
What is outbound marketing?
Outbound marketing is broadcasting your message to a large audience in the hopes that you will attract the attention of some of those who are interested in your product or service. Broadcast television advertising is a classic example of outbound marketing. Another example is an email marketing blast to an extensive, purchased list.
Can content marketing improve sales results?
Yes — but not directly. Content marketing efforts and aligned conversion actions, such as free offers, result in leads. Leads must then be converted into paying clients, often through selling efforts. It remains the responsibility of the sales team to close business. Revenue attribution involves identifying which content (and other) marketing efforts resulted in how many dollars of revenue.